Adult Service and Long Term Care Unit
Adult Service/ Long Term Care Unit are comprised of two units, Protective Services for Adults and the Homecare Unit.
---
Adult Protective Services
PSA (Protective Services for Adults) is available without regard to income for people 18 years of age or older and who meet the following criteria:
Has a physical or mental impairment
Is in need of protection from actual or threatened harm due to an inability to meet their essential needs of food, clothing, shelter or medical care, secure entitlements due them, or protect themselves from physical harm, emotional harm, sexual abuse or financial exploitation
Has no one able or willing to assist them responsibly
If you feel someone may be in need of help you can make a referral; all information and sources is confidential.
To make a referral call: 518.853.8275
---
NY Connects
Montgomery County NY CONNECTS is a collaboration between Montgomery County Department of Social Services and Montgomery County Office For Aging.
The purpose is to provide comprehensive, unbiased information regarding long term care services. A nursing and social assessment is completed free of charge to any person in need of homecare services, regardless of age.
For information or to make a referral call:
Office for Aging at 518.843.2300
Or
Long Term Care Unit at 518.853.5088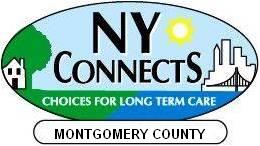 Get Acrobat Reader - Download to view PDFs
---
© 2015 Montgomery County, New York | All Rights Reserved
Contact the Webmaster | Employees
*NOTE: Links marked with an asterisk are not managed by Montgomery County. They are provided for your convenience only. We bear no responsibility for their content.
*External sites may require a subscription for viewing content.