Volkert B Veeder
-by Kelly Yacobucci Farquhar, Montgomery County Historian/RMO - Aug, 2006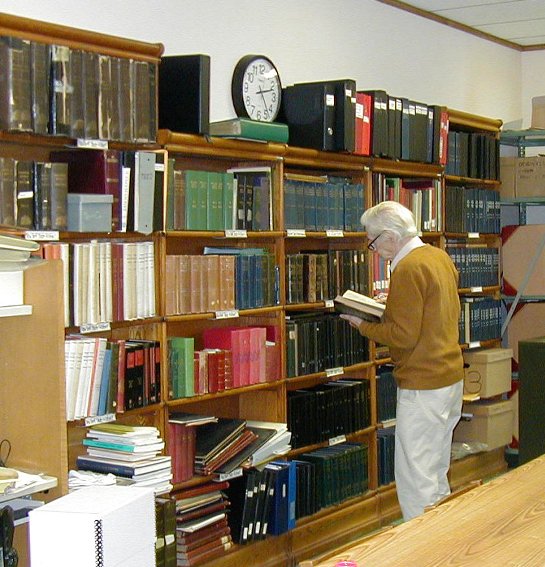 Two months ago, the history community lost a dear friend. Volkert B. Veeder, named for his colonial great-great-grandfather, departed this life to walk with his ancestors.
Born April 8, 1918, the only son and eldest child of John and Elizabeth (Bowler) Veeder, Volkert graduated Fonda High School in 1936 as the Class Valedictorian. It was a small class and Volkert always, even in recent months, boasted how the majority of his classmates were still around well into their eighties.
Upon graduating Cum Laude from the U.S. Naval Academy in Annapolis, Volkert went on to travel the globe after receiving his commission as Ensign with the United States Navy. Although he was far away from the hills and flowing waters of the Mohawk Valley, Fonda was never far from Volkert's heart and mind.
His service in the military and his time spent in the Mediterranean was a very significant part of Volkert's life. For a period of a year and a half, from January 1942 to July 1943, he served as an Assistant Navigator on Engineering Duty aboard the U.S.S. Ranger (CV 4). His next duties took place on the U.S.S. Langley (CVL 27) in the Pacific Theater from September 1943 to October 1945.
After the ending of hostilities that brought World War II to a close, Volkert continued his naval service in the Caribbean and Mediterranean Seas. He was "farmed out" by the Navy to the State Department and the U.N. where he had a position on the United Nations Special Committee on the Balkans as a War Observer in Northern Greece (Macedonia). He regularly spoke of his time in Greece, traveling across the mountains, shopping in the agora, and acting as an impromptu ambassador giving a speech to Greek citizens.
Leaving the Navy in 1952, Volkert's work experience took him up and down the east coast for the next five years. This vast experience involved working with chemical giant, DuPont, on the Savannah River Site project where nuclear reactors and chemical facilities were constructed for the creation of nuclear weapons materials.
In 1957, Volkert returned to his native Mohawk Valley where he spent the next half-century with his hands in two areas that he dearly loved – history and antiques. He often recounted his many trips to New York City with John Morford searching for antiques and used furniture. Beginning in 1967, he owned and operated a business selling antiques and conducting estate appraisals on Main Street in Fonda. The shop was moved to Fort Hunter in 1977.
That same year, Volkert became superintendent of the antiques department in the Heritage Building at the Fonda Fair. Many of the readers may recall the elderly gentleman who greeted every visitor to the Heritage Building, striking up many a conversation. What you may not know is that Volkert took his job so earnestly, watching over the antiques, that for the week of the fair, he took up residence in the Heritage Building with his clothes, bedding, and hot plate. Every night at the fair's close, for all of the years he was there right up until last year, the spry octogenarian climbed the rickety ladder to his sleeping place in the building's rafters.
Volkert's passion for antiques did not end with the fair. He loved the "Antiques' Roadshow" on PBS so, as the speaker chairman for the Heritage & Genealogical Society of Montgomery County, Volkert organized our own "Roadshow" welcoming people to bring items for appraisal by Ella Mae Duross. Volkert had his own eclectic collection of antiques, including his varied collection of lapel pins.
While Volkert's knowledge was endless, it was his recall for history and detailed local history that was even more amazing. As a daily volunteer to the Montgomery County Department of History & Archives for more than twelve years, Volkert held the esteemed title of "the man with the answers." I learned so much local history from this man. Whenever a visitor or research request came into the office in search of answers that I did not have, I went to Volkert. If he did not have the answer then he was able to direct me where to find it. Believe me when I say that I felt pretty proud of myself when I could anticipate his suggested sources.
Many visitors came to our office in search of ancestry and after striking up a conversation with him, many left who were able to call Volkert "cousin." As a "jack-of-all-trades" at the department, Volkert's activities consisted of research, document and book conservation, and public relations. One time, a few years ago when I was on vacation, a visitor was traveling to Montgomery County from San Francisco. He was searching for his ancestral roots and wanted a tour guide. Volkert volunteered and did some preliminary research. On a Saturday, Volkert took time from his own schedule to show this man the cemetery where a number of his ancestors were buried, where they lived, as well as a body of water named for the family. The visitor was ecstatic.
There were a number of topics that, after an initial spark, led Volkert on a quest. The original paint color of the Old Courthouse; keeping the Whipple bridge in Montgomery County; documenting the life of Jeremiah Nutt, a black Civil War veteran buried outside of Fonda; the reason for designating the Montgomery County Memorial Forest (just east of the former County Home); and procuring donations for the purchase of the journal of John Maxwell, an Amsterdam attorney who secured pensions for Civil War veterans.
Memberships included: Fultonville Lodge 531, F&AM (Volkert was Master in 1976); past director of the Tri-County Old Time Power Association; Coon Hollow Engine & Tractor Club; Heritage & Genealogical Society of Montgomery County; Charleston Historical Society; Fort Hunter Canal Society (President from 1976); lifetime member of Montgomery County Agricultural Society; and honorary member of Tryon County Militia. Among his numerous accomplishments, Volkert received the "Heritage Heroes" award from the Mohawk Valley Heritage Corridor Commission in 2000.
A number of other personal tidbits come to mind about Volkert. He volunteered each spring and fall at Arkell Hall talking with the residents about various topics, an activity he enjoyed since 1990; the single red roses that he laid at various graves each Memorial Day; his collection of red dogs; and the deep affection he had for his favorite feline friend, "Kat."
As a final tribute for all of his activities and service to our department, the Montgomery County Board of Supervisors recently passed a resolution to name the future records storage facility in honor of our friend, Volkert B. Veeder.
So you may wonder what all of this has to do with history. My answer is that Volkert Veeder's entire life was a testament to history – all of the events and places that he witnessed in some of our country's most significant periods during the 20th century. All who knew him will miss him. Volkert kept a saying above his cluttered desk at the Department of History & Archives, "collect, preserve, disseminate." That was his motto, history was his life.
Get Acrobat Reader - Download to view PDFs
---
© 2015 Montgomery County, New York | All Rights Reserved
Contact the Webmaster | Employees
*NOTE: Links marked with an asterisk are not managed by Montgomery County. They are provided for your convenience only. We bear no responsibility for their content.
*External sites may require a subscription for viewing content.