Press Release
Publish Date: 5/27/2016
RELEASE: County Officials Present Jeans Day Donations To MCSPCA & Ayers Shelter
County Employees Raise Nearly $1,000 For Local Animal Shelters To Care For Pets
FONDA — On Wednesday, May 18, County Executive Matthew L. Ossenfort and Legislators Roy Dimond (District 3) and Martin Kelly (District 1) presented the Montgomery County Society for the Prevention of Cruelty to Animals (SPCA) and Ayers Memorial Animal Shelter with money raised by county employees during "Jeans Day."
Both the MCSPCA and Ayers received a check for $480, as a total of $960 was raised to be used to help these shelters provide protection, care and shelter to homeless, abused or neglected animals and to help promote proper pet care awareness. The money was collected during two "Jeans Day" events held in the month of February.
This is another initiative with the goal of looking out for the well-being of all animals in the county and enhancing safety measures. In March, a local law was passed by the County Legislature to strengthen animal welfare and cruelty prevention laws in the county.
On select Friday's, Montgomery County has held "Jeans Days" for its employees to raise money for worthy causes. Employees can wear jeans to work, which is a deviation from the dress code, with a $5 donation requested.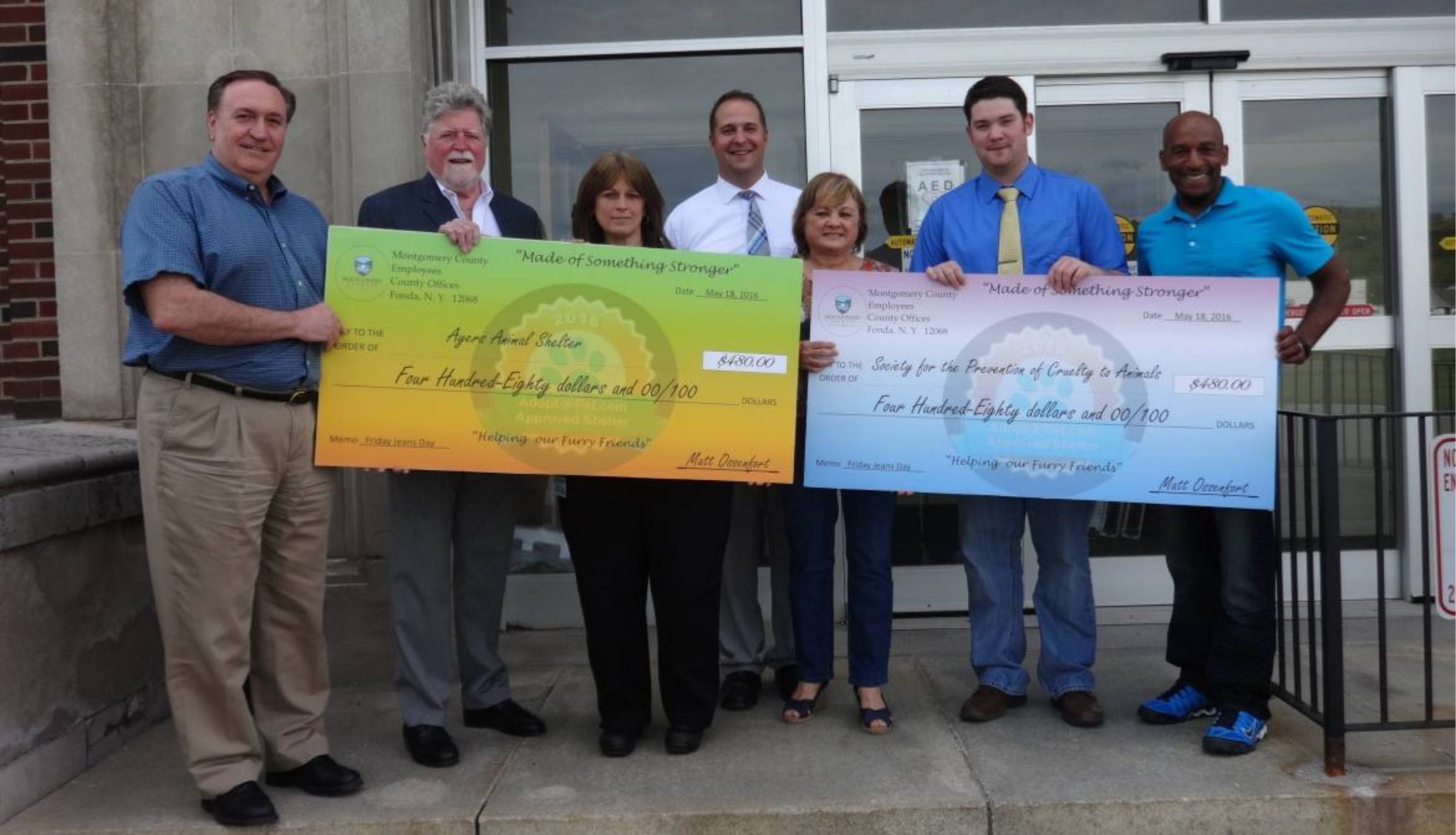 On Wednesday, May 18, county officials presented the Ayers Animal Shelter and the Montgomery County SPCA with checks for money raised by county employees during "Jeans Days". From left to right, Legislator Roy Dimond (District 3), Ayers President Joe Rosemyer, Ayers Vice President Suzanne Stegich, County Executive Matthew L. Ossenfort, MCSPCA President Jan Zumbolo, Legislator Martin Kelly (District 1) and MCSPCA Shelter Manager Anthonio Baker.
Get Acrobat Reader - Download to view PDFs
---
© 2015 Montgomery County, New York | All Rights Reserved
Contact the Webmaster | Employees
*NOTE: Links marked with an asterisk are not managed by Montgomery County. They are provided for your convenience only. We bear no responsibility for their content.
*External sites may require a subscription for viewing content.