Press Release
Publish Date: 3/2/2016
RELEASE: Fonda-Fultonville Students Donate Monthly Can Money To Danielle's House
Students Cash In 1,500 Cans, Present Check For $75 To Local Homeless Shelter
FONDA — On Tuesday, County Executive Matthew L. Ossenfort visited Fonda-Fultonville High School and participated in a check presentation to Danielle's House, the homeless shelter in Amsterdam.
For the past few months, students from the school have been collecting bottles and cans that would have previously been thrown out, recycling them and donating the money to worthy causes. In February, students collected 1,500 cans and returned them for a total of $75, to donate to Danielle's House. Janine Robitallie, Executive Director for Interfaith Partnership for the Homeless, accepted the money, on behalf of the shelter.
Teachers Robert Headwell and Sherri Lott organized the effort with the theme of "giving back, one bottle at a time." Students Joseph Wilder and Mason Suchocki have gone room to room, throughout the school, collecting the cans.
In previously months, the school has donated the can money to causes such as breast cancer research, an animal shelter, to benefit a family that was affected by a fire and a Christmas wish.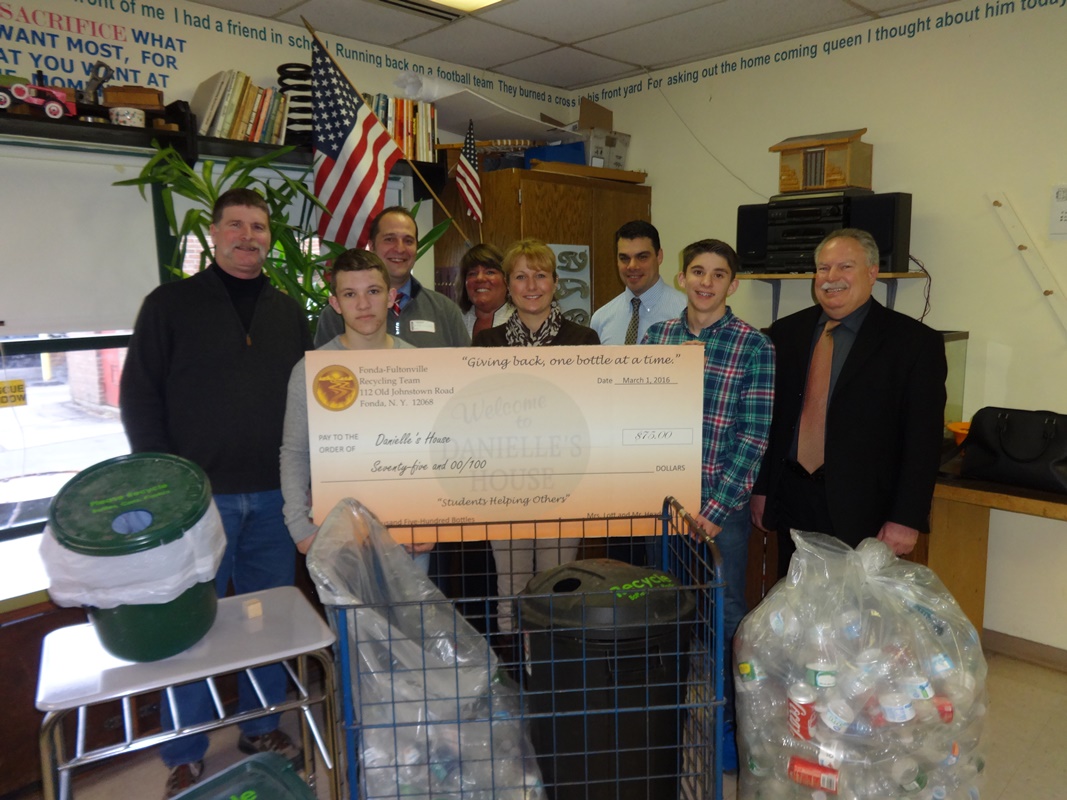 Students from the Fonda-Fultonville High School present Danielle's House with a check for $75, money that was collected from returning bottles and cans during the month of February. From left to right, teacher Robert Headwell, student Mason Suchocki, County Executive Matthew L. Ossenfort, Executive Director of IPH Janine Robitaille, teacher Sherri Lott, Middle School Principal David Zadoorian, student Joseph Wilder and Social Services Commissioner Michael McMahon. Not pictured is High School Principal Aaron Grady, who has also fully supported the effort.
Get Acrobat Reader - Download to view PDFs
---
© 2015 Montgomery County, New York | All Rights Reserved
Contact the Webmaster | Employees
*NOTE: Links marked with an asterisk are not managed by Montgomery County. They are provided for your convenience only. We bear no responsibility for their content.
*External sites may require a subscription for viewing content.