Press Release
Publish Date: 12/18/2017
RELEASE: Montgomery County Employees Donate To Fonda-Fultonville Backpack Program
The Departments of Public And Mental Health Raise Over 150 Pounds Of Food, 273 Canned Items
FONDA — Montgomery County Department of Public and Mental Health staff carted out over 150 pounds of food Monday that will be given to kids in need.
Fonda-Fultonville Central School District Superintendent Thomas Ciaccio and Melanie Capron, a social worker at the district who founded the Backpack Program accepted the donation at the County Annex Building. The program provides backpacks filled with food for students on the weekends when other resources are not available. Capron said the program serves almost 40 district students and there are still kids on the waiting list.
"Every bit of support that we get goes to our district and in our community," Capron said. "We are very appreciative of all the support that we get."
Director of Public and Mental Health Sara Boerenko said her staff reached out to the community to find a good cause in need of donation.
"These days a lot of families are in need," Boerenko said. "Food stamps and community resources are great, but for some of our kids in the County, the Backpack Program is what supplements their meals over the weekend."
Boerenko said her staff paired off into two teams for the competition. Each day they wore jeans they would also bring in two food items for donation.
"We made it into a competition and some of the girls went way above and beyond and would bring in 10 things a day," Boerenko said. "Not only was it a fun little activity, but it helped out the community."
County Executive Matthew L. Ossenfort said $9,629 was raised in 2017 for local charities through jeans days.
"It's nice to see County employees always willing to give back to the community," he said.
Ciaccio noted how grateful he was for the donation.
"Montgomery County always pulls together to support our families that need a little extra support during the holidays," he said.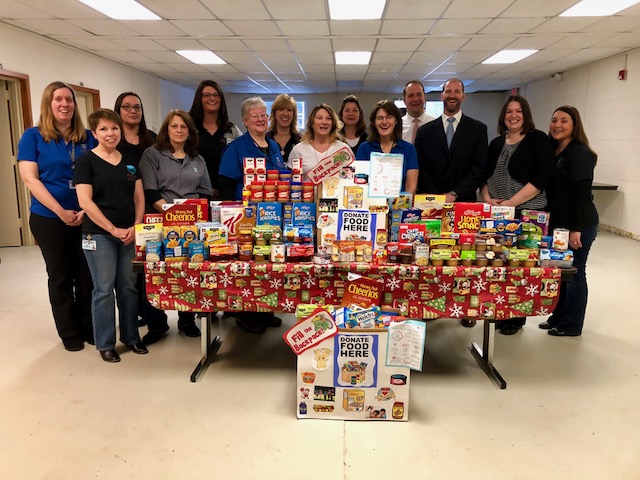 Pictured above: Montgomery County Executive Matthew L. Ossenfort, Fonda-Fultonville District Superintendent Thomas Ciaccio, social worker Melanie Capron, Montgomery County Public and Mental Health Director Sara Boerenko and staff pictured Monday making a donation to Fonda-Fultonville's Backpack Program.
Get Acrobat Reader - Download to view PDFs
---
© 2015 Montgomery County, New York | All Rights Reserved
Contact the Webmaster | Employees
*NOTE: Links marked with an asterisk are not managed by Montgomery County. They are provided for your convenience only. We bear no responsibility for their content.
*External sites may require a subscription for viewing content.