Montgomery County - County Court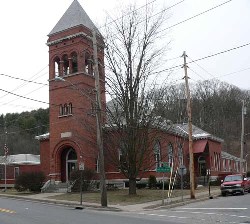 The County Court is located in each county outside New York City. It is authorized to handle the prosecution of all crimes committed within the county. It has exclusive authority to handle trials in felony matters and shares authority with the local city, and town and village courts to handle trials in misdemeanor cases (offenses punishable by less than one year in prison) and other minor offenses and violations. The County Court also has limited authority to hear civil cases involving monetary awards of $25,000 or less.
The 4th Judicial District County Courts* include: Clinton, Essex, Franklin, Fulton, Hamilton, Montgomery, St. Lawrence, Saratoga, Schenectady, Warren and Washington Counties.
---
Get Acrobat Reader - Download to view PDFs
---
© 2015 Montgomery County, New York | All Rights Reserved
Contact the Webmaster | Employees
*NOTE: Links marked with an asterisk are not managed by Montgomery County. They are provided for your convenience only. We bear no responsibility for their content.
*External sites may require a subscription for viewing content.