Press Release
Publish Date: 2/13/2017
State of the County Scheduled for March 1 at FMCC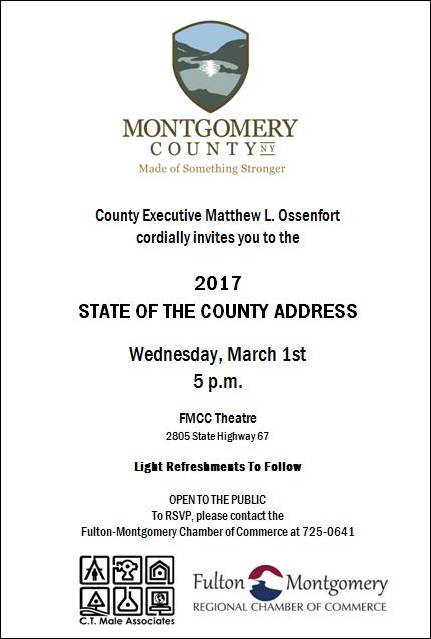 County Executive Matthew L. Ossenfort cordially invites you to the
2017 State of the County Address
Wednesday, March 1st at 5pm
FMCC Theatre, 2805 State Highway 67.
Light Refreshments to Follow.
This event is open to the public. To RSVP, please contact the Fulton-Montgomery Chamber of Commerce at 518-725-0641.
Get Acrobat Reader - Download to view PDFs
---
© 2015 Montgomery County, New York | All Rights Reserved
Contact the Webmaster | Employees
*NOTE: Links marked with an asterisk are not managed by Montgomery County. They are provided for your convenience only. We bear no responsibility for their content.
*External sites may require a subscription for viewing content.