Press Release
Publish Date: 7/18/2016
RELEASE: County Announces 2016 Local Tourism Grant Award Winners
County Awards More Than $16,000 To Local Organizations For Events Aimed at Boosting Tourism
FONDA — County Executive Matthew L. Ossenfort and Legislative Chairman Terry A. Bieniek are proud to announce the award winners of the Montgomery County Local Tourism Grants for 2016. Bieniek (District 5) and Economic Development Chairman Robert A. Purtell (District 9) made the check presentation on Sunday July 3, before the Amsterdam Mohawks game at Shuttleworth Park.
"The goal of this program is to assist local organizations throughout the county in promoting events that have displayed the ability to attract visitors," Bieniek said. "Not only do these events positively impact our local economy, but they help to build a stronger image of Montgomery County."
"Tourism is an important economic driver supporting jobs and bringing visitors to the area," said Purtell. "The county is happy to support and help enhance these events, which represent the vast attractions we have here in Montgomery County."
Montgomery County Legislators Robert A. Purtell (left) and Chairman Terry A. Bieniek (right) present a check for the 2016 Local Tourism Grant Awards to organizations at the Amsterdam Mohawks game on Sunday, July 3. Purtell (District 9) and Bieniek (District 5) are joined by Amsterdam Mohawks President Brian Spagnola, Nellis Tavern representative Walt Lane and St. Johnsville Chamber of Commerce representatives Kevin Enea and his daughter, Claire Enea.
The total amount awarded to local organizations was $16,200. That money was appropriated into the 2016 budget and is generated by the Occupancy Tax. These local tourism grants make up a portion of that tax, which is to be used for efforts to increase tourism in the county.
"These grants will help assist local organizations looking to attract visitors to events and festivals that showcase what Montgomery County has to offer," Ossenfort said. "By strengthening activities that draw visitors into the county, we are hoping to grow tourism and boost activity for local businesses."
The proposals covered everything from bringing entertainment acts into the county to annual events that attract visitors from across the area and hosting conferences. The winners and the projects they intend to use the grant money for are listed below.
Fulton-Montgomery Community College — Walk The Wall In The Fall at FMCC
Hummingbird Hills Winery — 2016 Annual Car Show
St. Johnsville Chamber of Commerce — Springfest
Amsterdam Mohawks, Inc. — Parkfest
Amsterdam Waterfront Foundation — Riverlink Summer Series 2016.
Canajoharie Library & Art Gallery — Rembrandt Van Rijn at the Arkell Museum
Dan's Backyard BBQ — Mohawk Valley Riverfest
Empire Prospect Baseball — Empire State Prospect Baseball Tournament
Fort Klock Historical Restoration — Music Concert
Mohawk Valley Collective, Inc. — MVC Summer Music Series at Unity Hall
Fort Plain Museum — 2nd Annual Conference on the American Revolution.
Montgomery County Agricultural Society — 175th Annual Fonda Fair
Palatine Settlement Society — Mohawk County's Julyfest Event
The Friends of Schoharie Crossing — Canal Days
Village of Fort Plain — Thursday in the Park Concert Series
Fort Plain Community Activity Council — Annual 4th on the 3rd Celebration
For more information on the Local Tourism Grant Awards or to be added to the tourism email list, please contact the Montgomery County Business Development Center at (518) 853-8334.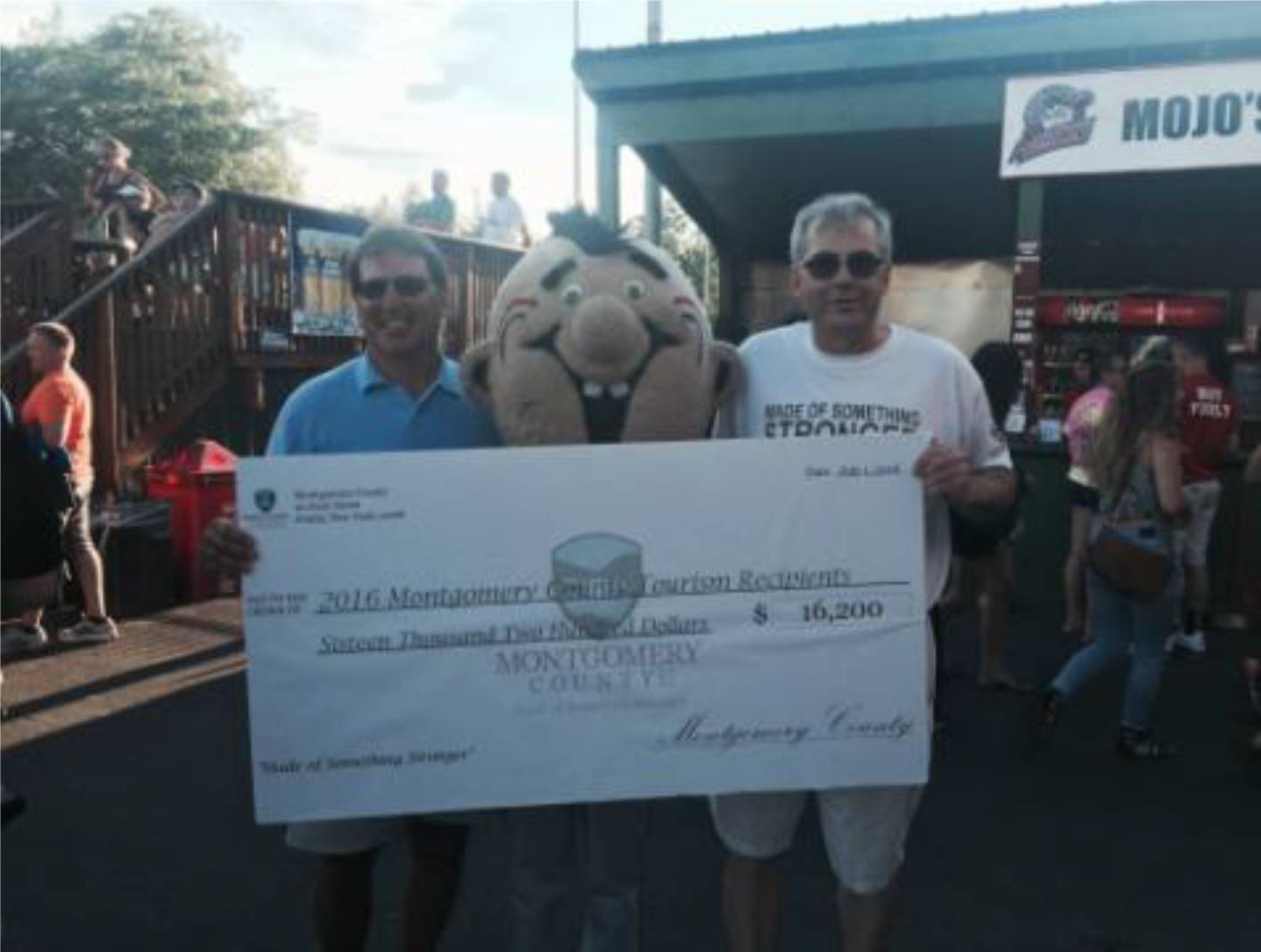 County Legislators Terry A. Bieniek (left) and Robert A. Purtell (right) pose with Mojo, the Amsterdam Mohawks mascot, and a check totaling $16,200, which was presented to the recipients of the Montgomery County Local Tourism Grant Awards at Shuttleworth Park on Sunday, July 3.
Get Acrobat Reader - Download to view PDFs
---
© 2015 Montgomery County, New York | All Rights Reserved
Contact the Webmaster | Employees
*NOTE: Links marked with an asterisk are not managed by Montgomery County. They are provided for your convenience only. We bear no responsibility for their content.
*External sites may require a subscription for viewing content.