Press Release
Publish Date: 6/30/2016
RELEASE: County Donation Goes To Support Cranesville Fire Prevention Program
Money Raised During Jeans Day Donated to Cranesville Volunteer Fire Department
FONDA — On Wednesday, June 1, County Executive Matthew L. Ossenfort presented a check to the Cranesville Volunteer Fire Department for money that was raised by county employees during a "Jeans Day" in May. That department has taken a proactive approach to fire prevention by increasing efforts to educate the public about the importance of fire safety.
The Cranesville Volunteer Fire Department plans to use the $292 that was raised to help support its fire prevention program, which helps supply families with fire extinguishers and smoke detectors, along with pamphlets and education on fire safety. Marilyn Sawyer, president/fire fighter and her son, Joseph, accepted the check on behalf of the department.
In April, Cranesville was recognized for its efforts to deliver fire safety education with the James W. Wright Public Education Award, which was presented to the department during the opening session of the 43rd Annual Fire & Life Safety Educators' Conference, hosted by New York State Association of Fire Chiefs (NYSAFC) and the New York State Office of Fire Prevention & Control at the New York State Academy of Fire Science in Montour Falls.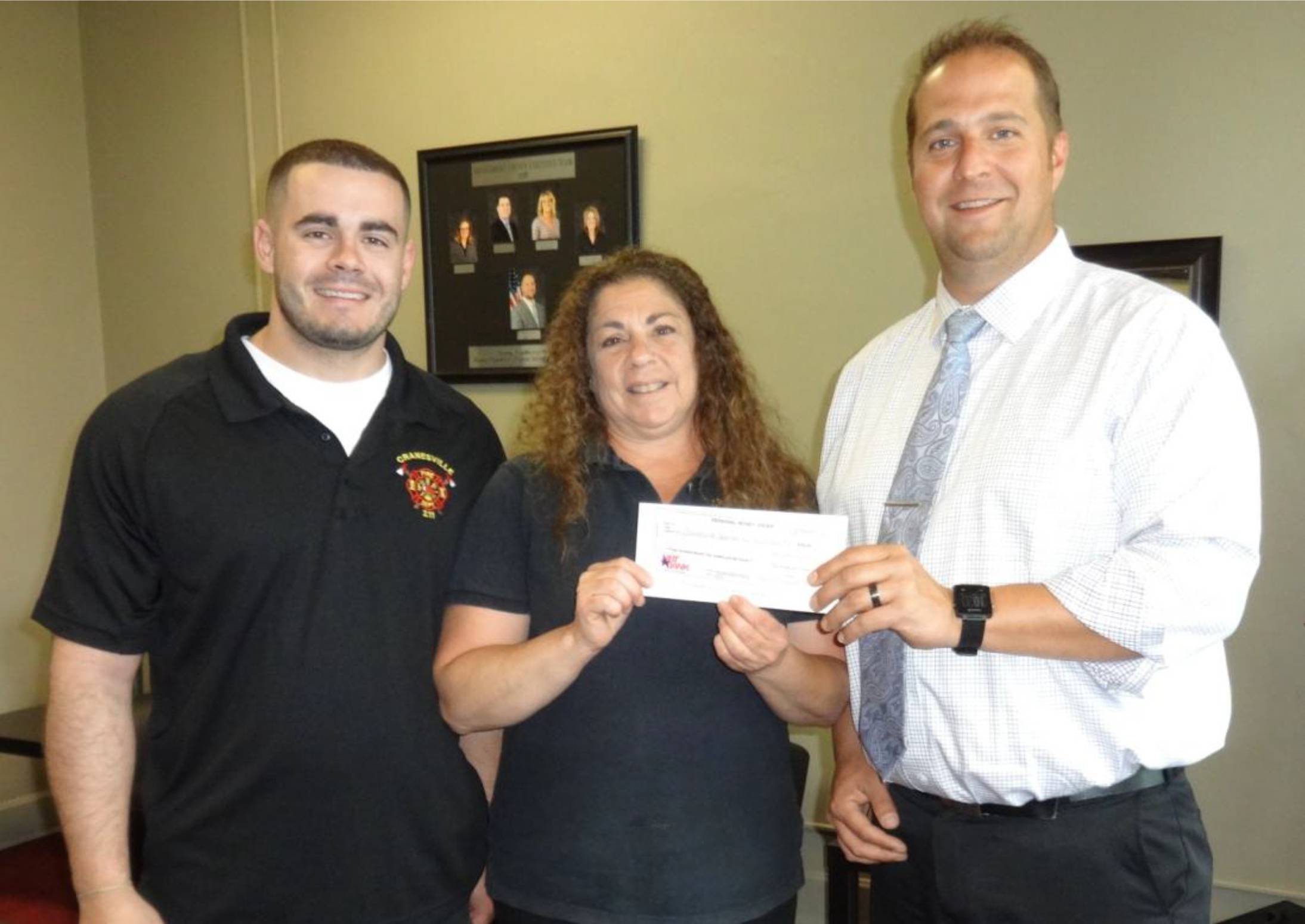 County Executive Matthew L. Ossenfort (right) presents a check to Cranesville Volunteer Fire Department's Joseph Sawyer and President/Firefighter Marilyn Sawyer. The money was raised by county employees during a "Jeans Day" in May.
At the conference in April, Cranesville was commended and recognized for showing citizens how to prevent fires and preparing residents for what to do in case of an emergency.
Cranesville's public education team led by Marilyn Sawyer, who launched this program to help enhance the safety of residents, has taken a hands-on approach to fire and life safety. The department has implemented fundraising initiatives to assist in the delivery of fire prevention and life safety education programs in the community.
Sawyer has also helped Cranesville tailor a program to meet the needs of children who are homeschooled and who may not be exposed to things such as fire drills. The department developed a curriculum specific for those children, which provides parents and children with critical information to sharpen their safety skills and enhance their awareness.
The department also hosts an annual "Fire Prevention and Safety Day," which has grown significantly over the past few years to include students from communities as far as 40 miles from Montgomery County. This event will be held again this year, in October. Additionally, Cranesville works closely with Fulmont Early Childhood Services Head Start Program in Amsterdam, where a fire prevention program is conducted twice a year and also assists in the annual Head Start County Carnival, in Fonda.
On select Friday's, Montgomery County has held "Jeans Days" for its employees to raise money for worthy causes. Employees can wear jeans to work, which is a deviation from the dress code, with a donation of $5 requested.
Get Acrobat Reader - Download to view PDFs
---
© 2015 Montgomery County, New York | All Rights Reserved
Contact the Webmaster | Employees
*NOTE: Links marked with an asterisk are not managed by Montgomery County. They are provided for your convenience only. We bear no responsibility for their content.
*External sites may require a subscription for viewing content.