Press Release
Publish Date: 5/19/2017
RELEASE: County Hosts First Students & Educators Made Of Something Stronger Breakfast
Event Established By County To Recognize, Celebrate Strength Exhibited By Students & Teachers
Attachment: 2017 Students Educators Program
FONDA — On Friday, Montgomery County Executive Matthew L. Ossenfort hosted the first Students & Educators Made of Something Stronger Breakfast at the Winner's Circle, in Fonda. All five school districts in Montgomery County nominated students from the senior class and a teacher who are "Made of Something Stronger." The event was held in a packed room, with the nominees, school administrators, parents, county department heads and county legislators in attendance.
"Our county government is focused on sharing the positive stories of people who live and work here," Ossenfort said. "These nominees have all showed strength in times of adversity or overcome hurdles in their lives. That's what life is all about. It's that resiliency that makes people from this area stand out."
Ossenfort and the County Legislature established this event to recognize and celebrate the strong students and teachers who help make Montgomery County special. Each of the nominees received a certificate and a "Made of Something Stronger" gift bag, with a few special tokens that have the county emblem on them. Since 2015, "Made of Something Stronger" has been identified as something that sets the area apart and has been used as a catalyst for both economic development and community pride.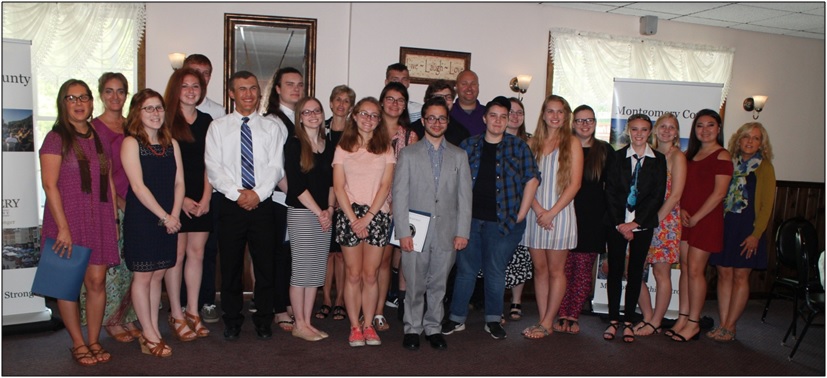 The nominees from the county's first Students & Educators Made of Something Stronger Breakfast pose for a photo. The students and teachers pictured were identified by their school district as being "Made of Something Stronger." They are from one of the county's five school districts (Amsterdam, Canajoharie, Fonda-Fultonville, Ft. Plain & Oppenheim-Ephratah-St. Johnsville). The event was held, Friday, May 19, in Fonda.
"This is a great event," Legislative Chairman Roy S. Dimond (District 3) said. "This county is full of strong people. An event like this helps to showcase those individuals who help make this area truly a great place to call home."
The nominees and their respective school districts are listed below …
Amsterdam High School
Victoria Barone-Lopez
Tim Kline
Kelsey Veeder
Calynn Vitus
Kevin Wilary (Teacher)
Canajoharie High School
Lucas Draffen
Geri Fredericks
Francesca Nare
Jacob St. Martin
Carol Ann Hammons (Teacher)
Fonda-Fultonville High School
Avery Cook
Angelique La Freniere
Dakota Livingston
Sarah Subik
Mary Brown (Teacher)
Fort Plain High School
Andrew Fureno
Timothy Hazzard
Izzy Lambert
Julia Stockwell
Lisa Petty (Teacher)
Oppenheim-Ephratah-St. Johnsville High School
Addie Brundage
Aidan Eggleston
Abby Mosher
Liam Sammons
Sarah Jewett (Teacher)
Supreme Court Judge Honorable Joseph M. Sise was the event's guest speaker. Judge Sise praised the students for the strength they have exhibited through their young lives and encouraged the honorees to chase their dreams by not letting a day go by without accomplishing what they set out to do.
"There is only a certain amount of time we have to achieve our goals," he said. "The clock is ticking. If you have something to do, don't wait, get it done."
The original idea to honor and recognize individuals from the academic sector of the county came from Legislator Robert Headwell, Jr., (District 4).
"I want to thank Legislator Headwell for having this idea and helping to see it to fruition," Ossenfort said. "I'm hopeful that this will continue to grow and become an annual event where we are able to recognize students and teachers from our five school districts that are successful in the classroom, but also place a strong priority on giving back to our community."
Get Acrobat Reader - Download to view PDFs
---
© 2015 Montgomery County, New York | All Rights Reserved
Contact the Webmaster | Employees
*NOTE: Links marked with an asterisk are not managed by Montgomery County. They are provided for your convenience only. We bear no responsibility for their content.
*External sites may require a subscription for viewing content.