Press Releases
---
Older Press Releases: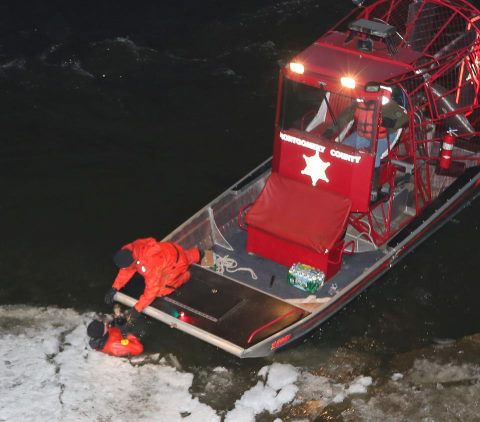 Cold Water Rescue
Updated 1/7/2014
Montgomery County Sheriff's Deputy Jeremy Liggett and Amsterdam Police Department K9 Officer Steven Pasquarelli (in the water) pulled a small brown dog from the Mohawk River last night near Lock 11 in Amsterdam. After several unsuccessful attempts to rescue the dog from shore, the Montgomery County Sheriff's Department air boat operated by Lt. Burt Wilson was called in. The dog is recovering at a local animal hospital. The Montgomery County Sheriff's Department, Amsterdam Police Department, Amsterdam Fire Department,Amsterdam Animal Control Officer Gina Kline, Montgomery County Office of Emergency Management, Canajoharie Fire Department Technical Rope Rescue Team and GAVAC all cooperated to rescue the animal from the icy waters.
---
Press Release
The Montgomery County Sheriff's Office would like to warn the public of a recent scam affecting local victims. There have beena few instances recently where a person will receive a phone call at home stating that if they do not provide a sum of money by Western Union then they will be arrested by the local Sheriff's Office or Police Department and put in jail. If you have a caller ID the phone number will show as an "Emergency Call". This is something completed with the use of a computer over the Internet, it is NOT your local law enforcement calling. Most of these victims have some sort of outstanding loan and the people calling are stating that a payment is required to satisfy a portion of the loan, they then state that lack of providing the payment as requested will be proof that a crime has been committed, therefore scaring the victim into sending the money. We encourage everyone to not provide any information to someone over the phone; we also encourage contacting your loan provider, bank or local law enforcement to assure that you are actually dealing with appropriate people. Never wire or send money to anyone that you are not completely sure who the requestor may be. Any questions please contact your local law enforcement or the Montgomery County Sheriff's Office at 518.673.2554, 518.853.5500 or 518.736.1850
---
Drug Arrest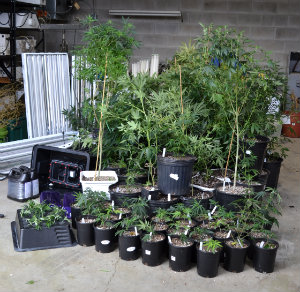 Sheriff Michael J. Amato releases the following information:
MONTGOMERY COUNTY SHERIFF'S OFFICE
DATE: April 10, 2012
ARRESTEE: Robert C. Sager-41 yrs. old, 1602 River Road, Fort Plain, NY 13339

WHAT HAPPENED: On Tuesday April 10, 2012 the Montgomery County Sheriffs Office acting on an anonymous tip concluded an investigation into an indoor marijuana growing operation in the Town of Minden. Upon arrival Sheriff's Deputies and Investigators immediately could smell what appeared to be marijuana emanating from the residence, which is located on River Road in the Town of Minden. The suspect, Robert Sager was not home at the time but was stopped a short time later traveling in his vehicle in the Village of Fort Plain. Sager returned to the residence and consented to a search of the property. Once inside Investigators located over one hundred and nineteen Marijuana plants in several different stages of the growing process on the entire second floor of the residence. Also found was lighting, fans and instructional materials for growing Marijuana. All were seized including small amounts of dried and packaged marijuana. Sager was taken into custody and arrested for Criminal Possession of Marijuana in the Fourth Degree and Unlawful Growing of Cannabis, he was transported to the Montgomery County Sheriff's Office where he was processed and later released. Sager is scheduled to appear in the Town of Minden Court at a later date.
---
Sex Offender Arrest
Sheriff Michael J. Amato releases the following information:
MONTGOMERY COUNTY SHERIFF'S OFFICE
DATE:4 /18/12
ARRESTEE: Joshua G. Pelosi-33 yrs. old, 11 4th Avenue, Amsterdam, NY 12010

WHAT HAPPENED: On April 17th, 2012, the Montgomery County Sheriff's Office, with the assistance of the Amsterdam Police Department concluded a week long investigation into the whereabouts of an unregistered Level 2 Sex Offender, Joshua G. Pelosi. The Montgomery County Sheriff's Office had been advised that Joshua Pelosi had left the address that he had been registered as residing at, which was in the Sheriff's Office jurisdiction, and moved to an unknown location in the City of Amsterdam. After checking numerous addresses, Joshua Pelosi was located at 11 4th Avenue in Amsterdam, but fled on foot when Sheriff's Deputies, and Amsterdam Police Officers arrived. Joshua was located a short time later by a member of the Amsterdam Police Department, and was taken into custody without further incident. Joshua Pelosi was arraigned in the Town of Glen Court before Justice Murray, and was remanded to the Montgomery County Correctional Facility on $10,000.00 bail. Joshua is scheduled to reappear in the Town of Glen Court on April 19th, 2012 to answer the charge. * Photograph available upon request * CHARGES: Failure to Register a Change of Address within 10 Days, Felony.
Get Acrobat Reader - Download to view PDFs
---
© 2015 Montgomery County, New York | All Rights Reserved
Contact the Webmaster | Employees
*NOTE: Links marked with an asterisk are not managed by Montgomery County. They are provided for your convenience only. We bear no responsibility for their content.
*External sites may require a subscription for viewing content.