K-9 and Law Enforcement Unit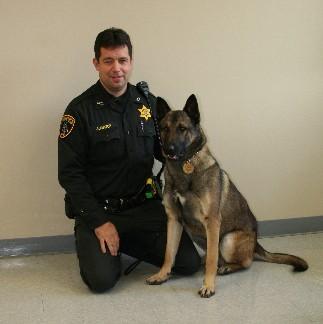 Deputy Jason Nare & K-9 GAJ
K-9 GAJ is the newest addition to the Montgomery County Sheriff's Office K-9 Unit. GAJ is named after Gary A. Johnson the only Deputy Sheriff ever killed in the line of duty from the Sheriff's Office. GAJ is a German Shepard/Malinois mix and is certified by New York State in Patrol Work and Narcotics Detection.
The Sheriff's Office K-9 Unit has been around for many years. Our K-9's are purchased with donations from the community. The K-9 and partner also do public demonstrations when available.
Get Acrobat Reader - Download to view PDFs
---
© 2015 Montgomery County, New York | All Rights Reserved
Contact the Webmaster | Employees
*NOTE: Links marked with an asterisk are not managed by Montgomery County. They are provided for your convenience only. We bear no responsibility for their content.
*External sites may require a subscription for viewing content.