K-9 and Corrections Unit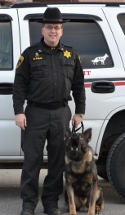 Correction Officer Eric Krug and K-9 Kilo
K-9 Kilo and Correction Officer Eric Krug are assigned to work our correctional facility. K-9 Kilo checks every incoming package and piece of mail before it enters the facility in an effort to control contraband.
K-9 Kilo also searches inmate cells and provides escorts throughout the facility.
K-9 Kilo is certified by New York State in patrol work and narcotic detection. When the patrol K-9 unit is unavaialble K-9 Kilo and CO Krug are able to assist in whatever service is needed.
Get Acrobat Reader - Download to view PDFs
---
© 2015 Montgomery County, New York | All Rights Reserved
Contact the Webmaster | Employees
*NOTE: Links marked with an asterisk are not managed by Montgomery County. They are provided for your convenience only. We bear no responsibility for their content.
*External sites may require a subscription for viewing content.