Voting In Montgomery County
Please click here * to view a video (on Youtube) on using the new machines.
For a printable copy of these instructions please click here.
Since the 2010 elections, Montgomery County has been using a new voting system. The new voting system uses paper ballots that are counted by a tabulator and stored after the election. It is very simple and can be broken down into three steps.
Step 1
Sign in at your appropriate table, you will be handed a paper ballot and privacy sleeve and directed towards a privacy booth.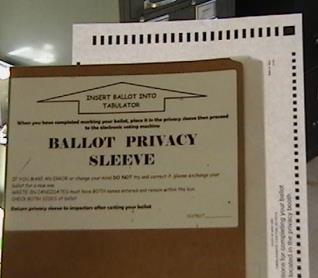 Step 2
Mark only with the special ballot marking pen provided.

To vote for a candidate whose name is printed on the ballot, fill in the oval above the candidates name completely.

To vote for a person whose name is not printed on the ballot, clearly print the name in the box labeled Write-In.

Review your selections and insert your ballot into the privacy sleeve.
*Do not try and correct or erase any marks. If you make a mistake, see an inspector for a replacement ballot*
Step 3
Carry your ballot to the voting machine with the privacy sleeve. You must have a privacy sleeve to cast your ballot.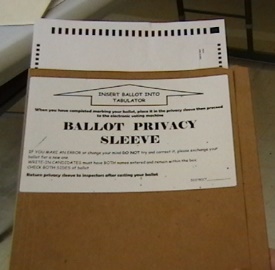 Insert the end of the ballot into the tabulator when "System Ready" appears.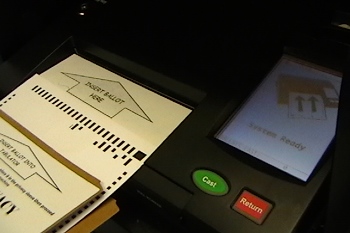 Wait for the display 'Ballot Successfully Cast' before walking away.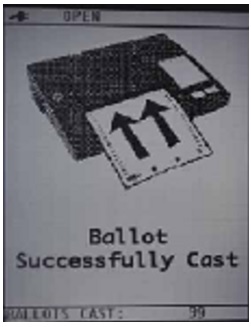 Get Acrobat Reader - Download to view PDFs
---
© 2015 Montgomery County, New York | All Rights Reserved
Contact the Webmaster | Employees
*NOTE: Links marked with an asterisk are not managed by Montgomery County. They are provided for your convenience only. We bear no responsibility for their content.
*External sites may require a subscription for viewing content.